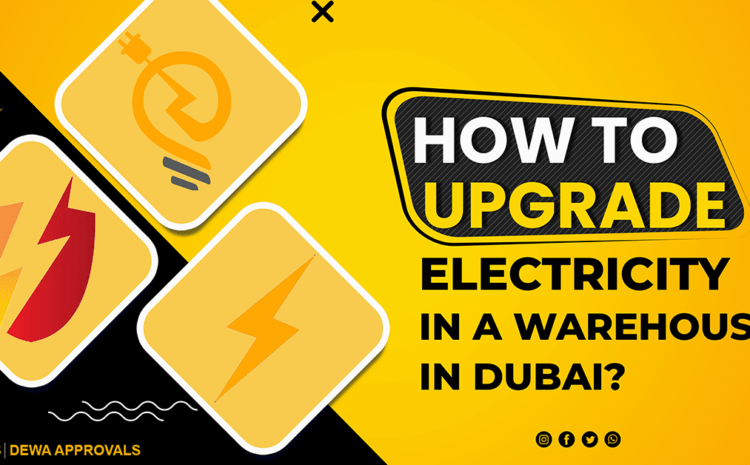 How to upgrade electricity in a warehouse in Dubai?
Is upgrade electricity really necessary? Absolutely yes, we can point out the wide range of issues dealt with without upgraded electricity. People who own a warehouse finds the need to redecorate and restructure their area. The idea of innovation of a warehouse includes electricity upgrades.
Safety is the primary requirement over the working condition of an electric structure. An electric structure may seem all fine until you deep check them. There is considerable danger in dealing with electricity in a warehouse. Many electrical issues are often ignored, it must be upgraded, studied, and dealt with proper care to ensure security.
An aged property imposes the need for upgrading, especially the electrical one. This boosts the overall performance of the warehouse
Electric upgradations in Dubai
DEWA Approved electrical contractors deliver you with perfect up-gradation for your warehouse. Our aim is your companies safety and performance. Let's look at some of our selfless services.
Provides sanctions from DEWA Approvals
DEWA approval is crucial for electricity upgrades. We deliver you with a power supply for industrial purposes with the support of DEWA approval. It is quite difficult to get it done with approval, so we guide and encourage you through the process. We study your problem and take every step to make it easy and comfortable for the business. Searching for DEWA approved electrical contractor gives you more knowledge.
Upgradation of electric panels
Provides advancement in electrical panels as indicated by our DEWA Consultant and contractors. The aged fuse box can result in a disruption in power supply along with the risk of safety.
Always keep a check on your warehouse, Is it upgraded? Is the safety measures are taken? Are we going up to date with electricity upgrades? Gadgets and applications in a warehouse can easily get damaged with power overload. The new electric panel can prevent problems related to overload in the electrical system.
Renovation of a warehouse can result in supply power to new or changed locations. Strict guidelines must be followed for such upgradations and you can trust our experienced team to do the work.
Improvements of the electric fuse, meter box, and meter board, etc
Meter box, meter board, electric fuses upgrades are for a reason. There might be signs that some meter boxes, especially old meters work slow and performance is declined. One of the reasons is that a meter stops working abruptly, this can be identified through a meter reader or metering system. Warehouse on extension requires extra loads and so they require a large fuse. Expert electricians from us are recommended to fix a larger fuse size.
Upgrades of old and damaged appliances for electrical improvements
Warehouses need fresh appliances for efficient working. Rusty or damaged appliances are a significant sign that it's time for upgrades. Keeping them as it is will be uncomfortable and reduces the outcome of your warehouse.
Upgradation of high power equipment
We enhance your low power equipment to high power equipment. Ground or air source heat pumps, microgeneration, large motors, welders, solar, etc will be upgraded as per your request without delay.
Elevating power to run supplementary electrical equipment
For instance, A small warehouse became so successful that they have decided to extend their property. The extended property can produce more productivity and value for the business. Such an act requires more electrical power to run additional electrical types of equipment. We give the upgraded power to run the supplementary equipment.
Hazards connected with non-upgraded electrical system
According to our opinion, the electrical system must be new and free of dangers. Sometimes people often ignore it to an extent that puts them at the risk of their own life. The outdated electric system is a dangerous situation, it can cause fire hazards which puts thousands of lives a threat. To ensure safety inspect bad wiring and suddenly upgrade it if it is disastrous. Heating of exposed wiring can cause igniting of surrounding flammable materials. The spark of fire eventually turns into an enormous fire due to ignorance.
The risk of electrocution rises if the wirings are old and damaged. A person may get severely injured or may even get killed at an electric shock. This process is known as electrocution. The electricity won't transfer property if there are holes in the wiring. Insulation won't act properly and the employers get an electric shock from the damaged electric wires. Search the list of electrical contractors in Dubai and choose the best.
Change your faulty wires soon because it can't transfer electricity properly and can result in a shortage of your appliances. The lifespan of the appliances is in threat in this case. Your non-upgraded electric system cannot now support new appliances. Loss of money and time is the outcome of your avoided electric system.